The IMT Slider
The Inovista IMT Slider provides a user with the capability of adjusting data ranges for Xcelsius components at run time. By dragging the tabs at either end of the slider a range of data is selected. Moving either of the tabs will result in a further adjustment of the data range.
The Slider can be used to adjust the value range of all the components in the dashboard from a single point.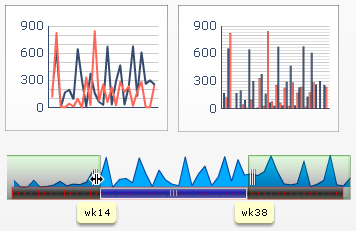 Once a range is selected, the whole range itself can be moved by dragging the thumb scroll bar between the end tabs. For example, to look at a ten week data range, move the end tabs so that the required period is selected. Then drag the thumb scroll bar to move throughout the whole range while keeping the same ten week period.
Multiple data series can be updated simultaneously. The slider works by copying chunks of data from one part of the Xcelsius spreadsheet to another.
For added visual effects, an optional micro chart, representing the values of one of the data series, can be displayed between the end tags.
The IMT Slider can be deployed within Inovista container type objects like the SVG Background. Once inside a container, it can be scaled, dragged around the Dashboard or hidden with the parent container.